No Show or Late Arrival Policy
Managing Our Schedule To Best Serve You
To provide your pet with the best care possible, we need to work together to keep our appointments running on time and maintain a workable schedule. Due to recent increase in no call/no shows for scheduled appointments along with the increase in demand for care, we have had to initiate a policy to address this issue. We often have a full schedule that results in the need to schedule emergency drop off appointments for our patients that require critical care. These appointments not only add to an already busy schedule, but they are more costly to the client. It makes a no-show appointment all the more frustrating when we could have seen the critical patient on our regular schedule. If we have two (2) no show appointments for the same client, we will no longer be able to schedule appointments for their pets. We are happy to send the records to a clinic of their choosing. We hope that clients can understand that when we have time blocked on our schedule, that is time that another patient does not have the opportunity to be seen. We ask for a minimum of 24 hours' notice to reschedule or cancel your appointment.
Late arrivals to a scheduled appointment make it difficult to maintain our schedule and it makes it very difficult to address the reason for the appointment. It is unfair to the client following the late arrival and adds stress to staff attempting to keep appointments running on time. If you arrive 10 minutes after your scheduled appointment time, you may be asked to reschedule for a different day that we have availability.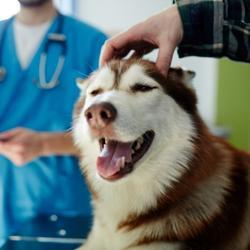 We understand that emergencies arise that can affect your ability to arrive for your scheduled appointment. Our policies are at the discretion of management. If you need to cancel or reschedule, McHale Animal Hospital can be reached at 763-363-5100 or via email at [email protected] during regular business hours. After hours, please feel free to leave a voicemail.
We value our patients and clients greatly and want to always strive to provide the best care possible!